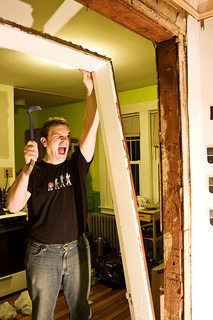 Home improvement is an extremely popular element of today's society. People are constantly looking for unique, creative and inexpensive ways to develop the space in which they live. Entire television networks, shows and magazines are dedicated to home remodeling and improvement.
While redesigning entire rooms and adding to your home looks appealing in the media, the act of doing so can be very expensive and time consuming. With this in mind, improving your home doesn't always require that you start from scratch.
When considering home improvement on a smaller-scale, there are many feasible projects that can have a large impact on the appeal and pleasure that surrounds your home. Whether you plan to hire home remodeling contractors or to complete the job on your own, here are 4 project ideas for improving your home this summer:
Build a Fence
Adding a fence to your property is one idea that has multiple benefits. Fencing your existing patio, garden, pool or other space creates privacy and can add an attractive visual element to your property. Fencing can often be decorative and serve as a complement for the other features of your property.
Another benefit of fencing is the value that it adds to your home. From a real estate perspective, adding a fence to your property is an inexpensive way to increase its value.
Create a Stone Path
Turning a frequently used walkway into a stone path is a fairly simple project that can do wonders for your yard. In comparison to worn grass or dirt, flat stones are an appealing element for connecting the spaces on your property.
Whether you wish to create a path from your house to your patio, a walkway to your favorite bench or make a path through your garden, laying flat stones is a great solution. A stone path is an element that you can add to your property without much expense or labor.
Build a Patio
If you don't already have one, creating a space for sitting outside can revolutionize the way in which you enjoy your yard. Whether you wish to make an extravagant patio with a canopy and ample space, or simply create a brick or stone pad for a few chairs, a patio is a worthwhile addition to any home.
Patios can be created in all shapes and sizes to meet your needs. While you can hire a contractor for more advanced designs or aspirations, creating a patio space is certainly manageable for the motivated do-it-yourselfer.
Add a Porch or Deck
Although it's certainly one of the more intensive projects on this list, building a porch or deck is an excellent idea for improving your home. Adding a porch to the front of your house or adding a deck that expands from your backdoor are two ideas with multiple benefits.
Decks and porches provide space for sitting, look appealing and serve as platforms from which you can add further improvements. Also, decks can be enclosed to protect you from the elements or left open in order to enjoy sunlight and warmth. While it will likely require careful planning and a decent time commitment, building a deck would make for a very worthwhile summer project.