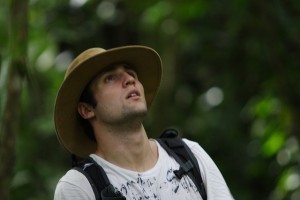 So you want to travel the world all by your lonesome? Good for you. According to Budget Travel, 11 percent of all American vacationers are hitting the road alone.
There are definite advantages to solo travel, including but not limited to going where you want to go, eating whenever you feel like it and staying out all night — or going to bed at 7 — if you want to.
We put together some tips for our lone rangers so you can have a great adventure alone whether you're going abroad or staycationing.
Tip #1 Research, Review, Repeat
Don't just blindly purchase airfare to some exotic sounding locale. If you're planning to travel by yourself, have an actual plan. This goes beyond earmarking pages in your destination guide or planning all your photo spots on TripAdvisor.
We want you to be well-prepared for your trip. So start by looking up local customs, crime rates and reviews from other travelers to the region. The more you know, the more comfortable — and safer — you'll be in your destination. Bonus: Then you'll also know how to handle the overzealous time-share push from resort staffers or what do to with a disgruntled hostel mate.
Tip #2 Make a Connection in Advance
A great way to travel safely and get the inside scoop on your final destination is to have a local connection. Thanks to Facebook and Twitter, friending a local before you get there is easy. And social media helps you research them to make sure they aren't creepy.
If you're really looking to get immersed in the culture, consider Couch Surfing. Thanks to this little community, travelers can crash on locals' couches — or in their guest bedrooms — while exploring new destinations. You can read reviews of hosts before you book their couch, too.
Tip #3 Arrive during the day
Nearly all solo travel sites recommend this one. When you arrive at your final destination during daylight hours — no matter what time your internal clock says it is — your transition will be less overwhelming and less intimidating. Most places look quite a bit creepier at night.
It's easier to get your bearings when you're traveling from the airport during the day. You can really start to get a feel for the area when you can actually see it. Another plus to arriving in the daylight? You can spend the rest of the afternoon acclimating. Day Two will be much brighter if Day One includes some time to orient yourself.
Tip #4 Consider voluntourism
Voluntourism is a great option for newbie solo travelers. It works like this: Travelers head to a destination where they provide a voluntary service. It's a great option for do-gooders who are really interested in being immersed in local culture. The other benefit is that you'll be working with like-minded fellow travelers.
Trip itineraries include:
Biking trips — some cross-country — with stops to help build affordable housing
Distributing medical supplies or cooking for orphans while touring Tibet
Learning about Thailand elephants and their handlers while living with them
Tip #5 Take your own picture
Guess who is going to be a lot more interested in your hour-long PowerPoint presentation on your "Days in Deutschland" if your pictures include you. Everyone.
In the days of smartphones with front facing cameras, you'd think everyone would have mastered the "selfie." But just in case you haven't, you can find tips for perfecting your self-portraits.
If you're not into taking your own pics, don't rule out strangers. Sure you might bump up against a crabby local on a bridge overlooking the Thames, but odds are you'll find more than enough friendly strangers willing to take your picture.
Tip #7 Safety first
Safety should always be a priority no matter how many people you travel with. It starts with choosing the right destinations. Travel + Leisure put together a great list of solo-travel-friendly destinations based on crime rate and friendliness of locals.
Once you arrive, remember to use the same common sense you would at home:
Stick to well-lit, public areas
Stay aware of your surroundings — this means don't get hammered and try to stumble back to your hostel/hotel
Don't be flashing your new iPhone and Prada all over the place
LifeHacker and SmarterTravel offer up some great tips for traveler safety, including:
Choose a hotel room between the third and fifth floors
Leave a hotel room trail like a note describing where you are going, who you plan to meet and when you will return
Carry cash and a phone card with you at all times
With a little homework and effort, your solo trip can turn into the adventure of a lifetime. Now go do your research and book your trip.