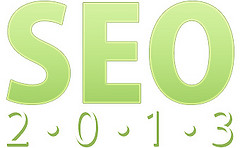 SEO is often portrayed as some type of magic or dark art. However, the reality of search engine optimization is much less mystical. While there are spammers who utilize automation in an attempt to cheat search engines, the majority of SEO efforts simply focus on maximizing a site's visibility for target keywords.
Regardless of its specific industry, if you run a business and have a website for it, you can benefit from implementing some basic SEO strategies. But since Google, Bing and Yahoo do make updates on a regular basis, strategies that worked a few years ago may no longer be effective. In fact, certain outdated strategies can actually hurt your rankings.
To ensure you're spending your SEO efforts on pursuits that will actually benefit your site, here are four of the best strategies for 2013:
Avoid Cookie Cutter
For many years, a lot of SEO companies sold services like article and directory submissions. Although these strategies were never the best available options, they generally worked well enough for people to continue using them.
The problem with these strategies is other than a small percentage of cases, they didn't add any value to the web. Instead, they were designed solely to help improve rankings. As a result, Google and other search engines have taken measures to devalue and even penalize links from these sources.
If you want to avoid those problems and focus on sustainable results, the rest of the tips on this list will help you do just that.
Start Blogging
One of the best ways to add value to the web is by blogging. Even if you don't think of yourself as a writer, you'll still be able to come up with great posts by focusing on creative ways to share all the useful knowledge you possess. For example, if you specialize in cosmetic lasers, the benefits of a photofacial and natural ways to keep skin healthy are just a few of the topics you can discuss.
Experiment with Social Media
There's still a lot of debate about exactly how much social signals directly impact SEO. But even if search engines aren't currently using social signals as one of their key metrics, it's still worth using networks like Google+, Twitter and Facebook to start building a strong social presence.
Diversify
Although proper search engine optimization can deliver great results, that doesn't mean you want to hinge your entire online marketing strategy on just one channel. Instead, you'll be much better off also taking advantage of channels like email. In fact, email marketing is a great way to get even more out of the organic search engine traffic you bring to your site.
SEO is definitely a field where you can get as technical and advanced as you want. But if you're just getting started, you'll get the best return on the time and effort you invest by simply focusing on doing the basics right.