It's easy to get lost within search results for your targeted keywords, and the further you are from the top three results in Google the more important standing out truly is for your click through rate. Here are four ways to really make your listing pop on Google SERPs.
1. Use meta descriptions to your advantage: Do you want your website listing to look like this?
There is nothing helpful, much less professional looking, about this meta description. That's likely because this site doesn't have a meta in place for this page. Instead, they're letting Google decide what to drop in as a meta description which is often just the first lines of text it can find.
Instead, use keyword rich meta descriptions as keywords used in the search query are bolded and make your listing stand out. Take for instance this meta description from a local dentist office; you'll notice a few keywords bolded from the search query. Also, make sure to use a clear call to action so visitors know what you expect them to do once they arrive on the site. This is also a great location for an enticing offer that might catch the attention of a searcher if you have one.

2. Use Google's Rel=Author tag: Something else you'll notice from the above example is a profile image associated with the SERP listing. This can really make your listing stand out, especially if your competitors aren't yet taking advantage of rel=author. All you need to do is create a personal Google+ profile and link it to your website. You can find simple instructions on how to implement rel=author from Google Support. There are a lot of other benefits to obtaining authorship, but for now just know that within a few days of adding the rel=author code you should expect to see a profile image appear next to your listings which should definitely increase click through rates.
3. Use Google's Rel=Publisher tag: This is quite similar to the rel=author tag mentioned above except that it gives your brand some extra real estate in SERPs for branded searches. You'll see this show up on the right side of search results like the example below.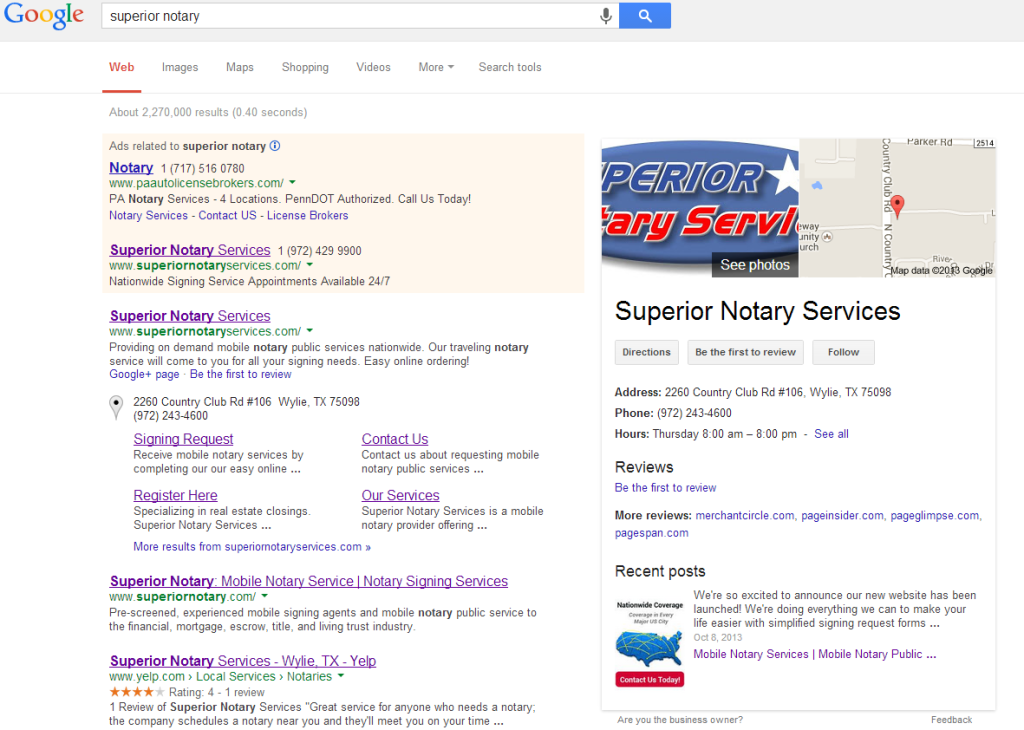 This requires the creation of a Google+/Local page which is easy to claim and setup. Once you do, you'll also be able to solicit reviews from visitors that can also help make your SERP listing stand out like so: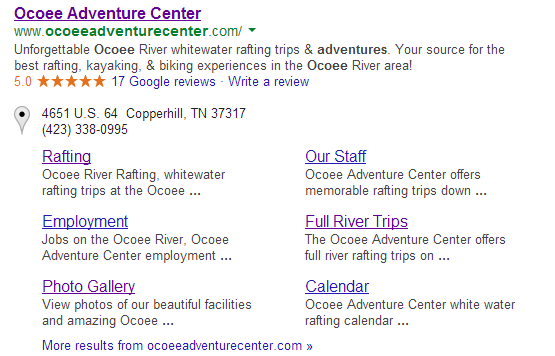 Those stars really draw the eye to your listing AND make you look great so long as your reviews are positive! Not only will these reviews help your listing stand out, but they'll also help you with local SEO. Be sure to get as many (positive) reviews as you can, especially on Google Plus!
4. Sitelinks and Structured Data: In the above you'll notice a number of sitelinks to inner pages. These are automatically generated by Google, but by all means make sure these links make sense for viewers to see in your SERP! You can request Google not display a particular sitelink via Google Webmaster Tools. Within WMT you'll also find Google's data highlighter where you can easily help Google understand what certain data on your site actually is. Use this to markup your reviews, address, products, and more. This will make an impact on what data Google displays in your SERP listing.
Hopefully, a few of these tips were new to you! Naturally, start first by checking out your own listing for a few different searches, then get to work making it pop!