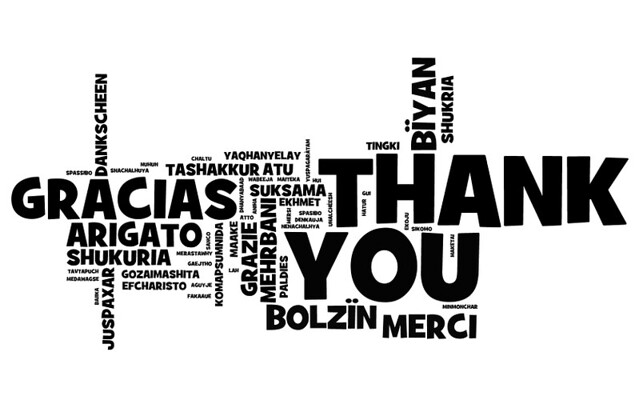 Thanksgiving is right around the corner, and with it comes the chance to reflect on what you're thankful for this year. And if you're involved in business, somewhere on the list of what you're thankful for should be your customers. But do your customers know just how much you appreciate them?
When you consider that it's more cost effective for your business to retain existing customers than to try to recruit new ones, you can see the importance of showing your customers that you value them.  There are all kinds of ways to get this message across. Below are just a few ideas to help you get started.
1.    Say Thank You
Never underestimate the power of a simple thank you. A great example of this comes from Mike Mirau, author of The Growth Coach, who says that an optical shop he worked at took a picture of each customer wearing their glasses and then sent them a hand-written, personalized thank you for purchasing glasses through them. Incentives are another great way to say thank you: you can offer reward points for returning customers or discounts for customer referrals.
2.    Designate a Day for It
Obviously, you want to show customers that you appreciate them throughout the year, but it doesn't hurt to have a day where you make that the main focus.  Choose a day on the calendar that your business will designate as Customer Appreciation Day. You could use this day to offer 20% off all products, host an exclusive event for your most loyal customers, hold contests, have a "Buy One, Get One Free" (BOGO) promotion, etc. Everyone loves free stuff, so what better way to encourage customer loyalty than to offer them freebies?
3.    Initiate a Thank You Campaign
There are all kinds of ways that you could do this; whether you choose to create a video, an infographic or even a few photos on Instagram; the possibilities are endless. Use social media to make your fans and customers feel special by interacting personally with them.
4.    Acknowledge Birthdays
People love to be thought of on their birthdays, so birthdays present a perfect opportunity for you to let customers know that they matter to you and you value them as individuals. Offer discounts, coupons or special deals in honor of their special day.
5.    Center Your Marketing Efforts Around Your Customers
Maybe you feature images of your customers (obviously, with their permission) on your website, or perhaps you include client testimonials in your newsletters or emails. Just like you would display your child's work on the fridge, people naturally want to show off what they are proud of, so show your customers that you are proud of them. Check out Havahart's social pages, like Facebook, to see a brand doing it right.
6.    Offer a Loyalty Program
Offer special perks, opportunities and rewards through club-style programs for members to enjoy. Picky Bars, a company that makes energy bars specifically to meet the needs of endurance athletes, caters to their customers with the club they offer. They claim that it's "the swank, exclusive, uber-hard-core, member's only club- scientifically designed for the biggest Picky Fan Addicts!" As members of this club, participants get access to all kinds of perks such as members-only discounts, the chance to sample new flavors and random free things (such as T-shirts and hand-written thank you notes). By taking this approach, the creators of Picky Bars make being a part of their club a fun and exciting experience. You could even start a punch-card program where customers get a card punched with each purchase they make, and once that card is filled, they get something free.
7.    Go the Extra Mile With Excellent Customer Service
If you really want to show your customers that you care, do the little things that make a big difference. Listen to their questions and answer them to the best of your ability. Honor their requests and try to ensure their satisfaction, regardless of how many hoops you have to jump through. Your customers will notice, and the excellent service you give them will make them want to return.
8.    Ask for Their Feedback
Getting opinions from customers about how your business is doing shows them that you care about what they think. Send out surveys and then follow up by thanking them for completing the surveys, perhaps including some kind of discount or special offer for the feedback they gave you.
You can show your customers you appreciate them in a variety of ways. What you do isn't as important as the fact that you do it, because showing your customers appreciation will in turn make them appreciate you! And what's more, you'll have their loyalty, which is yet another thing you'll have to be thankful for.