Hi MarCom Land readers! I'm Jacky and I blog at Keep Calm and Blog On. I'm a twenty-something New Yorker with a minor British obsession. Here I am in front of Buckingham Palace waiting for Prince Harry to sweep me off my feet…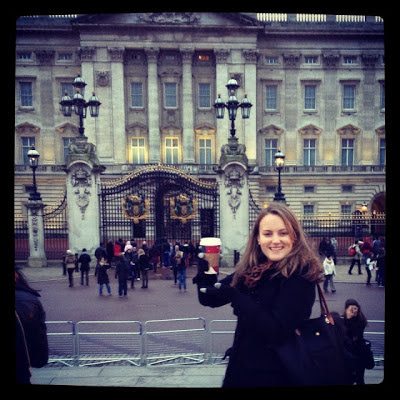 I even brought him a Pumpkin Spice Latte as a friendly gesture. Someday he'll realize I'm the one.
Anyway, I'm here today to share some travel secrets. Throughout my college years and a few years post college I had an opportunity to work for a travel company and see the world FOR FREE…that's right, for free! Sometimes I write flashback posts about my travels here.  
I always find that the hardest part about traveling is maintaining a stable diet and exercise routine. Between the post-international flight bloat and eating meals on the go, travel can be rough on the body and waistline. But have no fear! I've devised five tips to help you stay happy, healthy, and fit while traveling internationally:
#1. DRINK WATER. I can't stress this enough. Between long plane rides, jet lag and city explorations, travel is bound to keep you in a constant state of dehydration.  Depending on the country you're visiting and their reputation for clean drinking water, bring a reusable water bottle to fill up and take with you. If you're traveling somewhere where they suggest avoiding the tap water (Greece, for example), remember to stock up on water bottles at a supermarket or at the airport when you arrive. Often times water bottles are not as readily available as they are in the U.S., so keep that in mind.  If you can stay hydrated while traveling, you will have an easier adjustment to time changes and will avoid that bloaty travel feeling.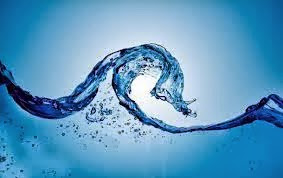 #2. BRING SNACKS. Do yourself a favor and throw a box of Nutri-Grain bars in your suitcase before you head abroad. Make sure you aren't traveling with any illegal food substances, but have some back up snacks packed. It's tempting to survive on gyros and Belgian waffles alone, but eating heavy meals and snacks makes you feel tired and gross. Think ahead for your between meal snacks and you'll find you eat better and save more money.
#3. STOP AT A SUPERMARKET. Don't be intimidated by a supermarket because you don't recognize any brand names in the isle. Supermarkets can help you eat cleaner and save money. When I went to Australia, supermarket shopping was essential. Not only was it a cheaper option than dining out every night, but we would sometimes drive for eight hours stints on our path down the coast and stocking up on water, Tim Tams and Jatz saved us a lot of stops and hunger pains. If you have the luxury of staying near a supermarket, use it to your advantage! 
#4. DON'T FORGET YOUR FRUITS AND VEGGIES! You mean you can't just eat banana and Nutella crepes for a week straight and not see a change in your waistline? I don't know about you, but when I travel to a new land, I'm a sucker for trying as many sweets as I can. Don't forget to stop for something nutritious every now and then.
#5. GO FOR A RUN. There is nothing more liberating than going for a run in a new city. Pack your sneakers with you on your trip and go for a jog. You'll get your exercise in and see some new sights. You also get the added benefit of looking like a local for a bit!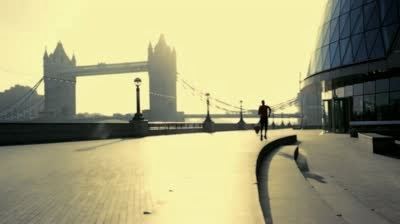 While travel can be tough on a healthy routine, I hope these tips inspire you to plan ahead for your journey. For more travel tips and ideas… please feel free to stop by Keep Calm and Blog On! Thanks for having me as a guest post, Alicia… until next time MarCom Land…