Welcome to Steamboat Springs, Colorado-Ski Town USA. Or more accurately put: A drinking town with a skiing problem.
My sister, Katrina, invited me to come visit for a week before she planned to leave this little touristy town and head down to Duke for her masters. Since she worked at both a local coffee shop and a hotel, she had plenty of connections and ideas for a crazy week of fun.
Splatz: Paint and Drink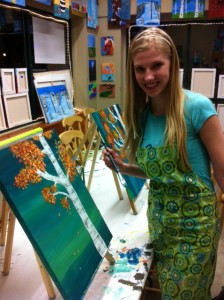 Besides the usual touristy attractions, we discovered this creative little paint shop in Steamboat. While they do have open paint times, Katrina and I decided to attend one of their nightly Canvas and Wine events. We had a blast!
After getting our drinks and preparing our paint plates, the instructor showed us how to paint a picture of a fall aspen tree step by step. While I paint and draw on a regular basis, the extent of my sisters experience is water colors in 2nd grade. But the instructor gave helpful tips (even I learned something new) and we both left with our own personal masterpieces.
Splatz has a great atmosphere even if you just want to go by yourself, too. I sat by a lovely woman who had come two nights in a row! The employees were all super nice and we left with a great memory for the wall.
Skiing the Slopes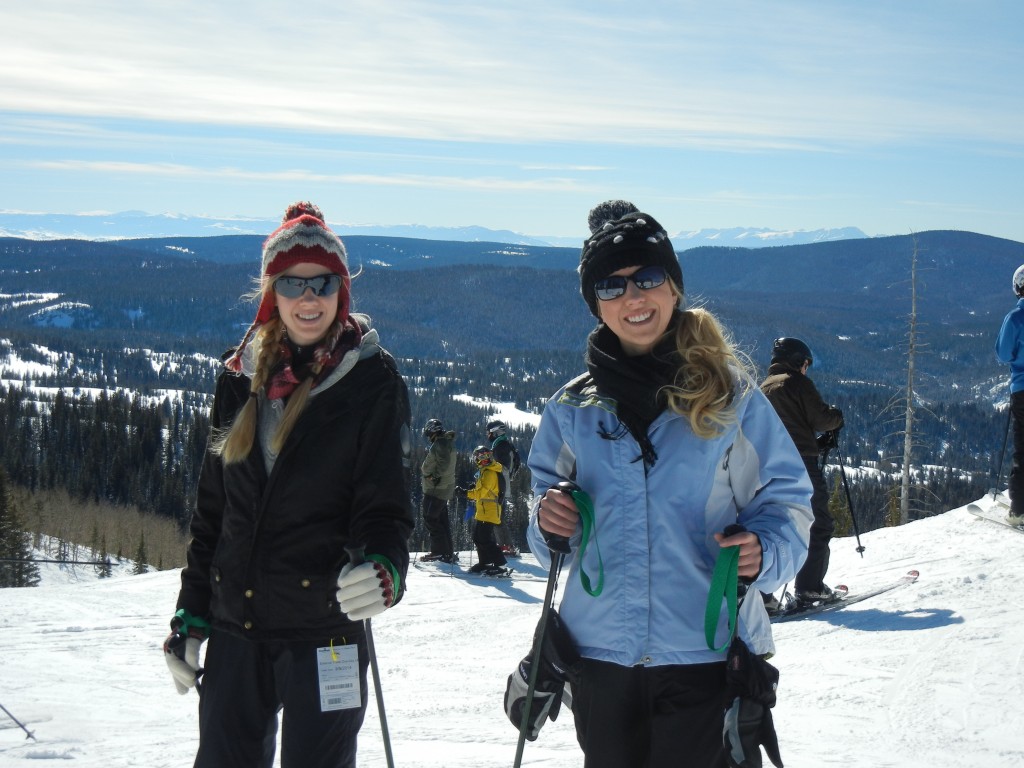 Skiing in Steamboat Springs can get pretty expensive. Lucky for me, my sister has awesome friends that gave us half off ski-lift tickets and even free rentals (Thanks guys!). The mountain (or should I say mountains) itself is ginormous and would require anyone at least a few days to ski every path.
We stayed on Sunshine peak the majority of the day. I hadn't skied for years so I wanted to take it easy. It was a beautiful day, and even though it was March when we went I got a serious sunburn. I looked like a red raccoon the rest of the trip (so make sure to wear sunscreen because the high elevation will get you burnt). After skiing, we met up with some of Katrina's friends and had a drink right at the bottom of the slopes (a popular tradition for Steamboat skiers).
Strawberry Park Hot Springs
No, it does not smell like strawberries but the sulfur smell isn't as bad there as it is in some of the natural springs throughout Steamboat (which was aptly name for their hot springs).
We originally weren't going to go to Strawberry Hot Springs because you have to have either chains or four-wheel drive with winter tires to get through the path to the hot springs. But at last minute we found a way up without having to take their outrageously expensive bus. Strawberry Park Hot Springs is a beautiful place and it has such a relaxing, earthy atmosphere.
We went into the lower (cooler) pool to start because when we put our feet in one of the first pools you get to it felt like fire to the touch. Afterwards, we were able to endure some of the hotter ones and I even found a nice little pool with a seat just for two and tiny waterfall flowing into the pool that I ended up chilling in for the majority of my time there.
Happy Hour All the Way
Whether you drink or not, happy hour is the time to go eat in Steamboat Springs. Almost every restaurant has some kind of deal for happy hour (times vary in each restaurant) and it makes eating in a touristy city lighter on the wallet. We scheduled the majority of our adventures around the happy hours of restaurants we wanted to go to: Creek Side Cafe, Mahogony Ridge and Slope Side during our ski day.
Last Tidbits
Of course, we had a lot more adventures than just the few I mention above. We visited the Red Rocks Amphitheatre (a few hours away from Steamboat), we hiked Emerald Mt (see first picture in this post), and we did the First Friday Artwalk (lots of fun with free food and drinks to boot).
Got a tip for those traveling to Steamboat Springs or a question? Share with me in the comments below.